All new Generation Yaris for only R3476 per month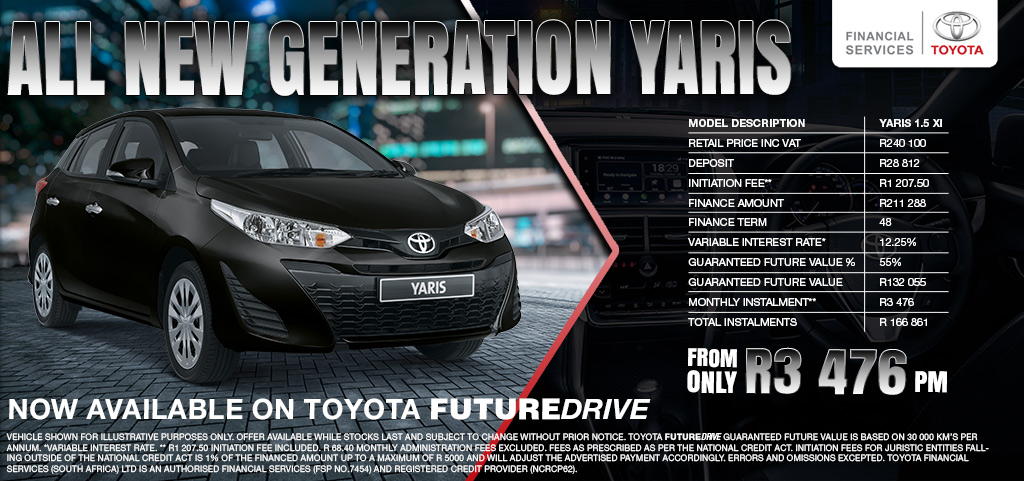 Discover the ultimate urban hatchback with Halfway Toyota Honeydew now for only R3 476 per month with Finance Deposit Assistance.
The all-new Toyota Yaris; built with bold intention for the dynamic, the curious and the adventure-ready, has been revamped from the ground up, giving you bigger, way better and much more. With a sleek, sporty exterior and a contemporary, spacious interior, this next-generation Yaris certainly looks the part against any urban backdrop. Boasting modern good looks and slick, increased performance, the all-new Yaris stands out from all the other hatches - reliable, efficient, environmentally conscious and also super tech-savvy. Why not be bold? Own it.
Retail Price Inc VAT
Deposit
Initiation
Fee**
Finance Amount
Finance
Term
Variable
Interest
Rate*
Guaranteed
Future
Value %
Guaranteed
Future
Value
Monthly Instalment
Total Instalments
R240 100
R28 812
R1 207.50
R211 288
48
12.25%
55%
R132 055
R3 476
R166 861
Vehicle shown for illustrative purposes only. Offer available while stocks last and subject to change without prior notice. Toyota FutureDrive Guaranteed Future Value is based on 30 000 Km's per annum. *Variable interest rate. ** R1 207.50 Initiation Fee included. R 68.40 Monthly Administration Fees excluded. Fees as prescribed as per the National Credit Act. Initiation Fees for juristic entities falling outside of the National Credit Act is 1% of the financed amount up to a maximum of R5 000 and will adjust the advertised payment accordingly. Errors and Omissions excepted. Toyota Financial Services (South Africa) Ltd is an Authorised Financial Services (FSP No.7454) and Registered Credit Provider (NCRCP62).